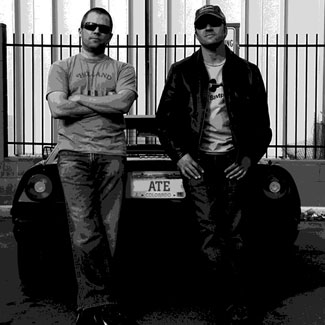 Air Tight Experiment
The sound of Denver based alt-rock-fusion band Air Tight Experiment is contagious. Artfully blending several genres simultaneously, Air Tight Experiment brings their "A" game to the music. With influences ranging from Foo Fighters to U2 to Maroon 5, Air Tight Experiment are definitely original, and on the "one to watch" list for anyone who really appreciates music. The music glides through amazing harmonies and complex guitar riffs while illustrating a beautifully written arrangement filled with tasty hooks. With the over abundance of semi-palatable music that has infiltrated today's music scene, Air Tight Experiment add both color and refreshing talent to today's musical landscape.
"I've been digging the Air Tight Experiment disc you gave me, I think it sounds great and real nice songs. I think compositionally this disc is real strong, every song has something I like so I seem to gravitate to different songs for different reasons. Great Job."

Brian Nevin, Big Head Todd
Air Tight Experiment has just released, "Delusions of Grandeur" (2013), the band's fourth national release.
Keep On Rockin'" (Axiomatic) rocked FMQB's 2010 'AC Top 200' chart for over 15 weeks, going to #78!
The two prior albums from Air Tight Experiment, "Rollin" and "These Go To Eleven" charted nationally in the CMJ for several months at a time, consistently topping top-30 playlists and frequenting the top 10% of artists in the CMJ top 200.
Air Tight Experiment Bio
Air Tight Experiment is the dynamic duo of Denver, Colorado natives Dan Levin & Devon Kurzweil, who have grown their own special blend of modern rock-fusion over the last 20 years.  In various local bands together, the two musicians often collaborated to create the music of Air Tight Experiment, bringing a marketable edge to rock music with incredible guitar production, mind blowing harmonies, thoughtful lyrics, and catchy arrangements.  They have just come out of the studio with the release of their newest album, "Delusions of Grandeur".  Brian Nevin, (Big Head Todd) says, "I think compositionally the disc is strong; every song has something I like so I seem to gravitate towards different songs for different reasons.  Great Job!"
Air Tight Experiment will be releasing "Delusions of Grandeur" this summer followed up by intense radio promotion and a regional summer tour.  The new album is filled with great songs, ranging from Foo Fighter/Incubus rock to U2 dreamscape alternative to Maroon 5 dance rock–it's all here.  "Don't Lead Me On" the album's featured single, and "You & I" (b-side) are featured on the new CD, along with 7 other fresh alt- rock fusion cuts.
Both Dan and Devon are stars in their own right.  Guitarist, Producer & Songwriter Devon Kurzweil is the driving force behind Air Tight Experiment. Devon creatively crafts the right hooks into both harmony & melodies, and yet maintains a freshness that most of today's rock music lacks.  A guitar virtuoso who plays any style, Devon is always sure to leave a huge guitar stamp on the music, whether live or in the studio. Vocalist/Songwriter, Dan Levin (aka Mr. Lizard Man) provides the lyrical balance with very strong vocal ability and clever harmonic arrangements.  Dan's voice is one of a kind, and tends to lure the listener even further into the music.  The combination is at times mind-blowing, ever-consistently producing great audio and lyrical compositions that take the listener on a trip for the entire album.
WHO ARE THEY?
Air Tight Experiment is the collaboration of Devon Kurzweil & Dan Levin, two Denver, Colorado natives creating serious alternative rock fusion for over 20 years.  Their sound is reminiscent of modern alt-rock with funk, pop, dance and world stylings. Their virtuosic and enthusiastic music has helped them to acquire a small fan base across the globe.